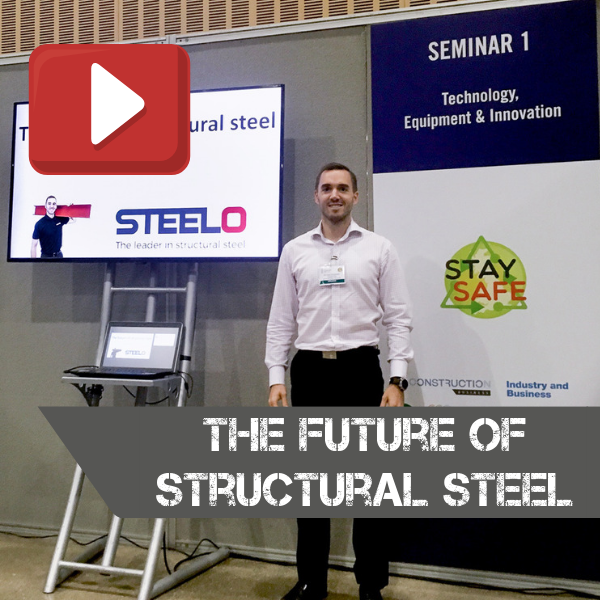 The future of structural steel
'The future of structural steel' – was the topic of the seminar session during the National Construction Expo 2018 in Milton Keynes on 18th September 2018. Our founder, Michael Krajewski, has addressed his predictions for the future of structural steel and how Steelo implements innovations in order to revolutionise the industry.
Watch Michael's presentation 'The Future of Structural Steel':
Steelo Ltd was set up by Michael Krajewski in 2009 with one purpose in mind: to revolutionise the steel industry. As an Aeronautical Engineer graduate, he stumbled across the steel industry and was shocked at how outdated this sector was. With his desire to simplify and improve things, he quickly found his passion in innovating the steel industry. Thanks to his motivation, Steelo is at the forefront of revolutionising its sector by implementing innovation, like 3D printing of steel connections, Artificial Intelligence for quoting projects based on received drawings, adopting the Theory of Constraints in order to dramatically reduce lead times, automating stocking processes under the Industry 3.0 concept and a few other breakthroughs. All concepts are being implemented with demographics in mind, i.e. the declining amount of skilled labour force available. Michael is a passionate entrepreneur with a vision of merging with other industry leaders in order to create a sustainable, highly efficient and reliable fabricated steel supplier.
The National Construction Expo
The purpose of the National Construction Summit was simple — Bring together over 2000 construction companies, developers, policymakers, project owners, building owners , government and municipal bodies, lenders & private investment firms, architectural and design firms, planners, facility managers, property managers, large industrial companies technology companies, legal & tax professionals, equipment and machinery providers, building material providers, professional advisors, energy and environment professionals — in order to stimulate debate, enrich knowledge and connect stakeholder's involved in the finance , design, construction and management of UK buildings, infrastructure and industrial projects.
Key Themes for 2018 Conference:
– Brexit
– Foreign Direct Investment
– Jobs, Skills, Training and Education
– Infrastructural Investment
– Public & Private Housing
– Building Materials & Services Innovation
– Sustainability