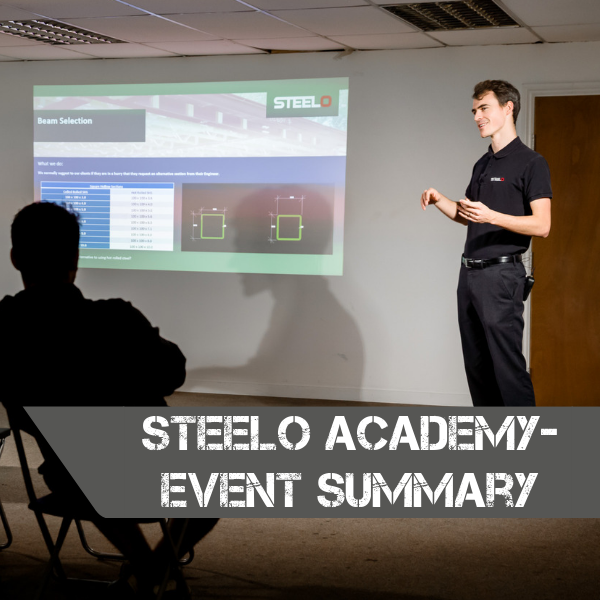 Steelo Academy – event summary
We have recently held the first edition of Steelo Academy – How to design the steel in a practical way. Our team talked about designing the steelwork, 3D printing and the importance of reliability in the construction industry.
Over 9 years, we have been working closely with construction foremen & builders, structural engineers and architects and noticed, that when there's a structural steel on a building site, there is a gap between theory and practise. Our event held on 5th December was prepared by the Design Engineering department at Steelo and was dedicated to Structural Engineers and Architects. We invited event attendees into an open discussion on how to design the steelwork so that it will fit on a building site easily and safely and how together we can make the construction industry a better place.
The event was opened with Steelo founder – Michael Krajewski's presentation, who spoke about the reliability in the construction industry and how implemented innovations help us to fabricate quality steelwork. Malina, from Sales department, introduced everyone to our quoting system and steel ordering process. Lina, Design Engineer, presented the outcome of our recent R&D project of 3D printing of steel.
After a quick networking break and tour on our production workshop, Luke, Design Engineer, has started a keynote presentation. He has presented the most common issues while designing and installing structural steel.
Steelo Academy was well received by event attendees who left a positive feedback.
– The event conducted by Steelo on 'How to design structural steelwork so that it will erect on site safely' is found to be very useful for engineers and quantity surveyors engaged in structural steel works. The presentations were clear and touched on all aspects in structural steelworks. We are grateful to you for this arrangement of the event – said Suresh Alvapillai – Chartered Fellow Engineer.
Sign up to our newsletter and get updates on future events!