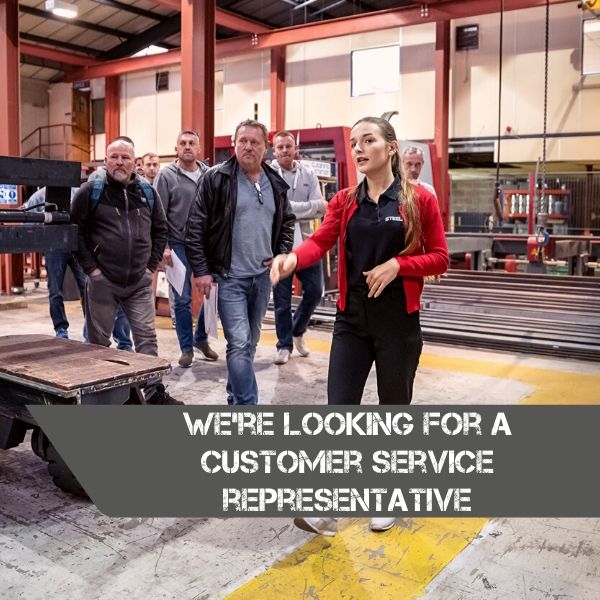 Customer Service Representative – job opportunity
Steelo is currently looking for a Customer Service Representative. Do you know anyone who would be interested in joining our team?
Do you like your work at the office, but aren't challenged enough?
Would you say you enjoy creating, developing and maintaining relationships with others?
…then join Steelo. We are currently looking to recruit a Fluent English-Speaking Customer Service Associate to join our team in Hounslow. We offer full induction training, so no previous experience is necessary. Our training covers core necessities to be the best you can be:
Everything about structural steel
Construction terminology
Systems and procedures
Use of our IT system
As a Customer Service Associate, you will be working at the very heart of the company. You will be situated at the front desk but also sharing offices with the Sales, Marketing and Systems Development departments. The upper floor is dedicated to the Design department with whom you'll have a close working relationship. At the back of the building is our production plant.
We're a young and dynamic team, where you will truly realise your potential! Our success depends on our people's success, so we provide a working environment and support to help you deliver your best work.
We take pride in our relaxed and people-oriented atmosphere. Be part of a company that's becoming a true industry changer.
If you feel you fit our criteria and want to embark on a fascinating journey, apply with no delay.
 Your Key duties will be:
Managing relationships with clients over the phone, by email and face to face
Filing and administrative duties
Managing your own workload
Filtering enquiries
Managing the front desk and greeting visitors
Finding innovative solutions to problems
Read more about this job opportunity on our careers page.